The Real Housewives of Auckland (abbreviated RHOAKL) is one of the reality TV shows in New Zealand. The reality series premiered on 22 August 2016, on Bravo.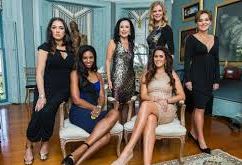 The reality TV show was developed as an international installment of the American The Real Housewives franchise with the second installment of The Real Housewives franchise by Matchbox Entertainment, and also following The Real Housewives of Melbourne.
The Real Housewives of Auckland was announced first on the 24th of January 2016. The show is the first spin-off of The Real Housewives of Melbourne, which is also one of the reality TV shows in Australia.
The Real Housewives franchise was launched in America in 2006. It follows the exploits of well-to-do women in Orange County and has spawned eight spin-off series in the States.
The TV show was inspired by dramas Desperate Housewives and Peyton Place. Over the past nine years, local versions have been produced in Greece, Sweden, Brazil, Israel, Canada, Mexico, France, Britain, and Australia.
The show focuses on the professional and personal lives of several women living in Auckland, New Zealand.
Casting
The cast for The Real Housewives of Auckland was announced in May 2016. The reality TV show will focus on Anne Batley-Burton, Michelle Blanchard, Gilda Kirkpatrick, Julia Sloane, Angela Stone and Louise Wallace.
Angela Stone

Angela is a focused, fun loving creative fashion designer. An author, a stylist, lifestyle guru and also a mother.
Angela also runs her own successful stylist service company based in Auckland, along with her own wine label and also her work as an international speaker on fashion and styling.  Instagram: @angelastonenz
Anne Batley Burton

Anne is New Zealand's own "Champagne Lady". She has been importing French wine and Champagne into New Zealand for the last 16 years. Anne is also an award-winning animal advocate, and also founded The NZ Cat Foundation to care for stray and community cats. Instagram:@AnneChampagneLady
Gilda Kirkpatrick

Gilda is known for being a queen of Auckland's social scene. She is Iranian-born, and lives in Paritai Drive with her two young sons and also owns Rascals advertising and PR agency where she works as a creative designer. Instagram: @gilda_kirkpatrick
Julia Sloane

Julia is a businesswoman, an athlete and also a former model. She is a familiar face in upmarket Parnell. Julia has recently remarried and is also a mother of two teenagers as well as a successful children's author. Instagram: @JuliaSloaneNZ
Louise Wallace

Louise is a television broadcaster and also a trained actor. She lives with her advertising exec husband in Auckland's Paritai Drive, and also runs a Tadpole Theatre Productions on the North Shore. Instagram @LouiseWallaceNZ
Michelle Blanchard

Michelle is a former fashion model who also hails from England. She has been turning heads on the Auckland social scene for years. Michelle lives with her husband and two teenage children in Coatesville, and also sports a love of fast cars and high fashion.  Instagram:@michelle__blanchard
The cast of the first season was described by the executive producer of the series, Kylie Washington, as "people who are the life of the party – the party is them – it's around them, so it doesn't matter where they are, something's always happening."
Also reported on the show, "there has been more "explosive" drama than even Kylie Washington anticipated. "We're pretty tongue in cheek with it as well. We know what we are, we're not pretending to be anything else. Already [The Real Housewives of Auckland] are showing that they have the right spirit," said Washington.
Production
The executive producer of the show is Kylie Washington
Production Company: By Matchbox Entertainment
Distributor: by NBC Universal International Television production, Mediaworks New Zealand
Original Network: Bravo
Picture Format: 1080i (HDTV)
Original Release: 22 August 2106 – present
Preceded by: The Real Housewives of Melbourne
Followed by: The Real Housewives of Sydney
source: Here