Rob Kardashian and his fiancee Blac Chyna's reality TV Show Rob & Chyna debuted yesterday Sunday, September 11, 2016.
Rob And Chyna TV Show will be about them opening up and also sharing their lives on E! with viewers on their Rob & Chyna docu-reality series which made its debut 9PM ET/PT yesterday.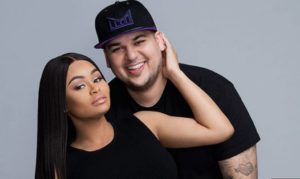 E! will go behind closed doors to get a better understanding Rob and Chyna tick, since they've recently started building a life together as a newly-engaged couple with a baby girl on the way.
Rob And Chyna TV Show
Rob and Chyna TV Show will be a six-episode series, and each episode lasting for one hour. Each episode of the Reality TV Show will witness Rob and Chyna getting to know each other quirks, opening up to each other, celebrating new beginnings, suffering some setbacks and also attempting to blend their very outspoken families as they've only been together for less than a year.
All through Rob and Chyna TV Show, Rob will also continue on his weight-loss journey to a good and better health.
Scott Disick and Kourtney Kardashian will also provide a shoulder for Rob to lean on, and also give him baby advice and encouraging words.
Kourtney Kardashian will also hang out with the Rob & Chyna at Khloe Kardashian's birthday party. Chyna will also be around for Rob's grandmother MJ's birthday bash in San Diego.
Kim Kardashian and their mom will also lend their support through the couple's rough patches.
Blac Chyna will also take Rob to her hometown of Washington D.C. to meet her friends and extended family.
Rob & Chyna TV Show is being produced by Bunim/Murray Productions and Ryan Seacrest Productions. Kris Jenner, Kim Kardashian West, Ryan Seacrest, Gil Goldschein, Jeff Jenkins, Farnaz Farjam, Ailee O'Neill and Walter Mosley will serve as executive producers. Rob and Chyna are co-executive producers of the Reality TV Show.