Dancing With The Stars Ryan Lochte was quite a show yesterday, and quite scary. A group of protestors who were wearing an "Anti Lochte" T-shirt stormed the Dancing With The Stars 2016 stage while Olympic swimmer Ryan Lochte and pro dancer Cheryl Burke were still receiving feedback for their dance on the Reality TV Show.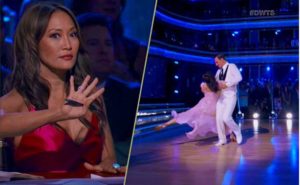 Dancing With the Stars incident happened just 10 minutes prior to the end of the Reality TV show. While screaming ensued, the security team promptly ran on to the stage to regain control of the situation, and the Dancing With The Stars host Tom Bergeron took the Reality TV Show to a commercial break.
When the live Reality TV show returned some minutes later, Dancing With The Stars Ryan Lochte said he was hurt by what had just happened, and pro dancer Cheryl Burke was visibly shaken.
A spokesperson for the BBC Worldwide Productions has this to say about the Dancing With The Stars Ryan Lochte incident "Two individuals stormed the dance floor and were immediately subdued and escorted out of the building. Also, the Dancing With The Stars incident is now being handled by the appropriate authorities."
Click here to read more and also watch the video on how the Dancing With The Stars incident happened.
Also, subscribe to get daily updates on your favorite Reality TV Shows and also auditions directly in your mailbox.
Meanwhile, there were plenty of amazing performances to discuss. Here's a bit of what happened:
Marilu Henner and Derek Hough: Marilu's reaction was epic when she found out Derek was her partner. But I think with Derek by her side, she'll last much longer in the TV Show.  Although she's no Jennifer Grey (Derek's last partner that he won the Mirrorball with), Marilu also has the skill and talent to be this season's dark horse.
James Hinchcliffe and Sharna Burgess: Sharna Burgess stunned in her glittery teal dress, red hair and mermaid waves, transformed race-car driver James into an amazing dancer.
Calvin Johnson and Lindsay Arnold:  Calvin was simply adorable on the dance floor, and also got all the women hooting and hollering backstage the minute he took his first spin.
Maureen McCormick and Artem Chigvintsev: Maureen has an appreciation for everything in life is very infectious. About the dancing, it needed refinement, just as Len Goodman said.
Babyface and Allison Holker: Babyface was also amazing and dazzled on the dance floor. And I also think Maureen McCormick and Babyface will become really good friends.
Amber Rose and Maksim Chmerkovskiy: Amber Rose is very talented, and also bold. But she danced like she was holding back. We're very hopefully she'll bring that fire next week.
Vanilla Ice and Witney Carson: Vanilla and Witney were also amazing on the dance floor, and we just look forward to seeing more of them next week.
Jana Kramer and Gleb Savchenko: Everyone loved Jana and Gleb's performance on the dance floor, except for Len Goodman, he said that Jana has so much talent and that she and Gleb didn't need to make the dance as sexy as it was.
Jake T. Austin and Jenna Johnson: They are also danced very well on the dance floor, and also looked adorable.
Rick Perry and Emma Slater: Rick and Emma also did their best on the dance floor. I think they need some improvement to avoid elimination.
Terra Jole and Sasha Farber: Terra and Sasha's dancing was really natural. They also performed quite brilliantly on the dance floor.
Ryan Lochte and Cheryl Burke: Ryan Lochte has got some moves, really engaging facial expression and also great posture.
Laurie Hernandez and Val Chmerkovskiy: Laurie and Val were simply Amazing. Although lots of people were quite distracted after the Dancing With The Stars Incident, the pair still performed brilliantly on the dance floor.