Mobile banking has become increasingly important in Nigeria as it provides a convenient and efficient way for individuals to manage their finances. Opening a bank account on your phone offers numerous advantages, allowing you to access banking services anytime and anywhere.
In this article, we will explore the process of how to open a bank account on your phone in Nigeria. Providing a comprehensive guide to help you navigate through the steps.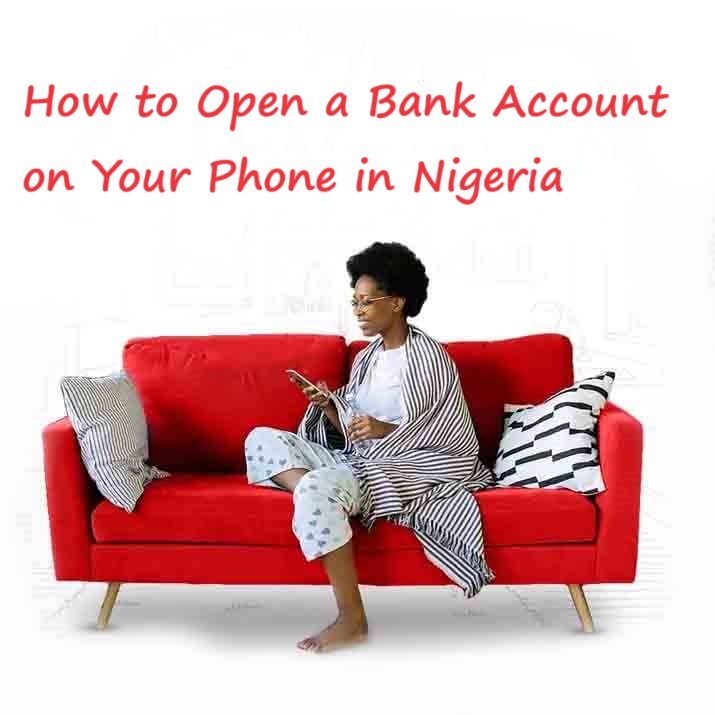 Understanding Mobile Banking | How to Open a Bank Account on Your Phone
Mobile banking refers to the use of a mobile device, such as a smartphone or tablet, to perform various banking transactions. Through mobile banking apps provided by banks, customers can conveniently conduct financial activities, including checking account balances, transferring funds, paying bills, and more, without the need to visit a physical branch. On this mobile app, it can also help with how to open a bank account on your phone.
READ ALSO: How to Create WhatsApp Link
How does mobile banking work in Nigeria?
In Nigeria, mobile banking works through the use of dedicated applications provided by banks. These apps are available for download on popular app stores, and customers can access their banking services by simply logging in to their accounts through these mobile apps. The apps are designed to ensure security while providing a user-friendly interface for seamless banking experiences.
Key features of mobile banking
Mobile banking apps offer a range of features to enhance the banking experience. Some key features include:
Checking account balances and transaction history: Customers can easily monitor their account activity in real time and keep track of their finances.
Transferring money to other accounts: Mobile banking apps enable swift and secure funds transfer between bank accounts, helping users conveniently send money to friends, family, or business associates.
Paying bills and utilities: Mobile banking apps often integrate bill payment functionality, allowing users to conveniently settle their utility bills, such as electricity, water, or internet bills, within a few taps.
Choosing the Right Bank | How to Open a Bank Account on Your Phone
Before opening a bank account on your phone, it is crucial to research and identify the top mobile banking providers in Nigeria. Look for banks that offer reliable and user-friendly mobile apps with a wide range of banking services.
Comparing banking services and features offered
Consider the various banking services and features offered by different banks. Evaluate these services based on your specific needs and preferences. Look for mobile banking providers that offer comprehensive services, including account types, loans, and investment opportunities.
Evaluating security measures and customer reviews
Security is of utmost importance when it comes to mobile banking. Take the time to evaluate the security measures implemented by different banks. Additionally, read customer reviews to gain insights into the overall user experience and satisfaction with the mobile banking apps.
Eligibility and Documentation
To open a bank account on your phone in Nigeria, you must meet the age and nationality requirements set by the bank. Typically, individuals aged 18 and above with Nigerian citizenship or valid residency are eligible to open mobile bank accounts.
Identity verification process
Banks in Nigeria have strict identity verification processes to ensure the authenticity and security of customer accounts. You may be required to provide valid identification documents, such as a national ID card, international passport, driver's license, or voter's card.
Necessary documents for opening a bank account on your phone
To proceed with opening a bank account on your phone, ensure that you have the necessary documents ready. These may include:
Proof of identification: Provide a valid government-issued identification document for verification purposes.
Proof of address: Some banks may require a utility bill or a bank statement showing your current address.
Passport photograph: Prepare recent passport-sized photographs for account registration.
READ ALSO: How to Invest in Real Estate in Nigeria
Preparing Your Phone
Before diving into the process of opening a bank account on your phone, it's essential to ensure that your device meets the necessary requirements.
Checking phone compatibility with mobile banking apps
Firstly, verify that your phone is compatible with the chosen bank's mobile banking app. Check the compatibility requirements, such as the operating system version and device specifications, to ensure the smooth functioning of the app.
Updating operating system and app versions
Ensure that your phone's operating system and the mobile banking app are up to date. Regularly updating these software components enhances both the security and functionality of your mobile banking experience.
Ensuring sufficient storage space
Mobile banking apps may require a significant amount of storage space on your phone. Before initiating the download, ensure that your device has sufficient storage to accommodate the app.
Downloading and Installing the App
Open the app store on your phone and search for the mobile banking app provided by your chosen bank. Ensure that you download the official app from a reputable source to avoid any fraudulent versions.
Step-by-step guide to downloading and installing the app
Once you've found the app, follow these steps to download and install it securely:
Tap on the app's icon or name in the app store.
Click on the "Install" button to begin the download.
Once the download is complete, tap "Open" to launch the app.
Follow the on-screen instructions to set up and configure the app.
Account Registration
After installing the app, locate the app's icon on your phone's home screen and tap to launch it. Look for the "Register" or "Sign Up" option to begin the account registration process.
Providing personal information accurately
During the registration process, you will be prompted to provide your personal information accurately. This may include your full name, contact details, date of birth, and other necessary information.
Authenticating your identity
To ensure the security of your account, the app may require additional steps for identity authentication, such as answering security questions, providing unique codes sent via SMS, or using biometric authentication like fingerprints or facial recognition.
Choosing Account Type and Services
In today's digital age, opening a bank account on your phone has become a convenient option for many Nigerians. With numerous account options and services available, it is essential to explore and understand them to make an informed decision. Here are the key steps to consider:
A. Exploring account options available
Savings Account: This type of account allows you to save money while earning interest on your balance.

Regular Savings Account: Provides a simple and flexible way to save money.

High-Yield Savings Account: Offers higher interest rates but may require maintaining a higher minimum balance.

Current Account: Designed for frequent transactions and provides features like checkbooks and overdraft facilities.

Basic Current Account: Suitable for individuals who require minimal banking services.

Premium Current Account: Provides additional benefits like personalized services and higher transaction limits.

Fixed or Term Deposit Account: Allows you to deposit a specific amount for a predetermined period with fixed interest rates.
B. Selecting the type of account that suits your needs
Consider your financial goals, transaction requirements, and expected usage frequency when choosing an account type. If you prefer liquidity and regular transactions, a savings or current account might be the best fit. However, if you have a lump sum amount and don't need immediate access to it, a fixed deposit account could be more suitable.
C. Opting for additional services like debit card or mobile payments
Many mobile banking apps offer additional services that can enhance your banking experience. These include:
Debit Cards: A convenient way to withdraw cash, make purchases, and make online payments.
Mobile Payments: Utilize mobile wallets or payment apps like Google Pay or Apple Pay for seamless transactions.
READ ALSO: How to Open a Payoneer Account in Nigeria
Setting Up Security Measures
While mobile banking offers convenience, it is crucial to prioritize security. Here are the essential security measures to consider:
A. Creating a strong PIN or password
Choose a PIN or password that is unique and not easily guessable. It is recommended to use a combination of numbers, letters, and special characters to increase its strength.
B. Utilizing biometric authentication (fingerprint/face ID)
Leverage your phone's biometric capabilities, such as fingerprint or face ID, for an added layer of security. This ensures that only you can access your mobile banking app.
C. Enabling two-factor authentication for enhanced security
Enable two-factor authentication (2FA) to provide an extra layer of protection. This often involves receiving a verification code via SMS or email, which is required along with your PIN/password for login.
Funding Your Account
Now that you have selected your account type and set up security measures, it's time to fund your account. Here are the options available:
A. Linking your phone number to your bank account
Many banks allow you to link your phone number to your bank account for seamless fund transfers and transaction notifications. Ensure your number is accurate and up-to-date.
B. Transferring funds from another bank account
If you already have an existing bank account, you can transfer funds from it to your new mobile bank account. This can be done through online banking, mobile banking apps, or by visiting a physical branch.
C. Depositing cash into your mobile bank account
Some banks have partnered with local agents or merchants, allowing you to deposit physical cash into your mobile bank account. This can be done through their designated collection points or authorized service providers.
READ ALSO: How to Start a Foodstuff Business in Nigeria
Exploring Banking Features
Now that your account is funded, it's important to familiarize yourself with the various banking features available on your mobile banking app. These features include:
A. Checking account balance and transaction history
Easily monitor your account balance and track your transaction history, empowering you with real-time updates and financial control.
B. Transferring money to other accounts
Effortlessly transfer funds to other accounts within your bank or to accounts in other banks. Ensure accurate beneficiary details to avoid any transaction errors.
C. Paying bills and utilities through mobile banking
Save time and effort by paying your bills and utilities directly through your mobile banking app. Simply add billers and make payments hassle-free.
Managing Account Settings
As your banking needs may evolve, it is important to manage your account settings to ensure they align with your preferences. Consider the following:
A. Updating contact information or address
Keep the bank informed of any changes to your contact information or address to ensure seamless communication and efficient account management.
B. Changing preferences for alerts and notifications
Tailor your account preferences by choosing the frequency and type of alerts and notifications you receive. Stay informed about important account activities.
C. Setting spending limits and transaction restrictions
Some mobile banking apps allow you to set spending limits or transaction restrictions to maintain control over your finances. Take advantage of these features to manage your money effectively.
Utilizing Additional Banking Services
Mobile banking apps in Nigeria offer various additional services to meet your banking needs. These services include:
A. Applying for loans or credit cards
Explore the possibility of applying for loans or credit cards conveniently through your mobile banking app. Review the terms and conditions before proceeding.
B. Requesting customer support or assistance
Should you require any assistance or have queries, customer support services are available through the mobile banking app. Contact the bank for prompt resolutions.
C. Exploring investment opportunities through mobile banking
Some mobile banking apps provide access to investment opportunities, allowing you to grow your wealth conveniently. Consult with financial advisors or explore provided investment options.
Tips for Secure Mobile Banking
To enhance the security of your mobile banking experience, follow these helpful tips:
A. Regularly updating app and phone security features
Keep your mobile banking app and phone operating system updated with the latest security patches and enhancements.
B. Avoiding suspicious links and phishing attempts
Exercise caution when clicking on links or responding to messages asking for personal or account information. Verify the source before proceeding.
C. Using public Wi-Fi cautiously
Avoid performing sensitive transactions on public Wi-Fi networks, as they may pose security risks. Opt for secure, private networks whenever possible.
Frequently Asked Questions (FAQs)
Here are some common questions that may arise on how to open a bank account on your phone in Nigeria. And also when considering mobile banking in Nigeria:
A. What happens if I lose my phone with my mobile banking app?
Contact your bank immediately to report the loss and request necessary actions to secure your account. They will guide you through the process of recovering your account or issuing a new mobile banking app.
B. Can I link multiple bank accounts to one mobile banking app?
In most cases, mobile banking apps allow you to link and access multiple bank accounts within the same app. Check with your bank for their specific capabilities and guidelines.
C. How can I change my PIN or password?
Typically, you can change your PIN or password within the mobile banking app's settings section. Follow the app's instructions to update your credentials securely.
D. Is mobile banking safe in Nigeria?
Banks in Nigeria have implemented robust security measures to ensure the safety of mobile banking transactions. However, it is essential to maintain good security practices, such as using strong credentials and keeping your phone secure.
E. Can I deposit physical checks through my mobile banking app?
Some mobile banking apps provide the feature of depositing physical checks by capturing an image of the check through the app. Check with your bank to confirm their check deposit capabilities.
Summary
In conclusion, how to open a bank account on your phone in Nigeria is easy. Opening a bank account on your phone in Nigeria offers numerous benefits, such as convenience, accessibility, and a wide range of banking services.
By choosing a reliable banking partner and following essential security measures, you can enjoy the convenience of mobile banking without compromising your financial well-being. Embrace the future of banking and make the most of the digital era to simplify your financial transactions.