Are you a freelancer, business owner, or online seller based in Nigeria looking for a convenient and reliable way to receive payments from international clients? Look no further than Payoneer, a popular online payment platform that allows you to send and receive money globally. In this comprehensive guide, we will walk you through the process of opening a Payoneer account in Nigeria, step by step.
Introduction
With the rise of remote work and the increasing global marketplace, it has become essential for entrepreneurs and freelancers in Nigeria to have a seamless way to transact internationally. Payoneer offers a convenient and secure solution, allowing you to receive funds in multiple currencies and withdraw them to your local bank account. In this guide, we will explore the benefits of using Payoneer, the step-by-step process of opening an account, and provide insights and tips to help you get started.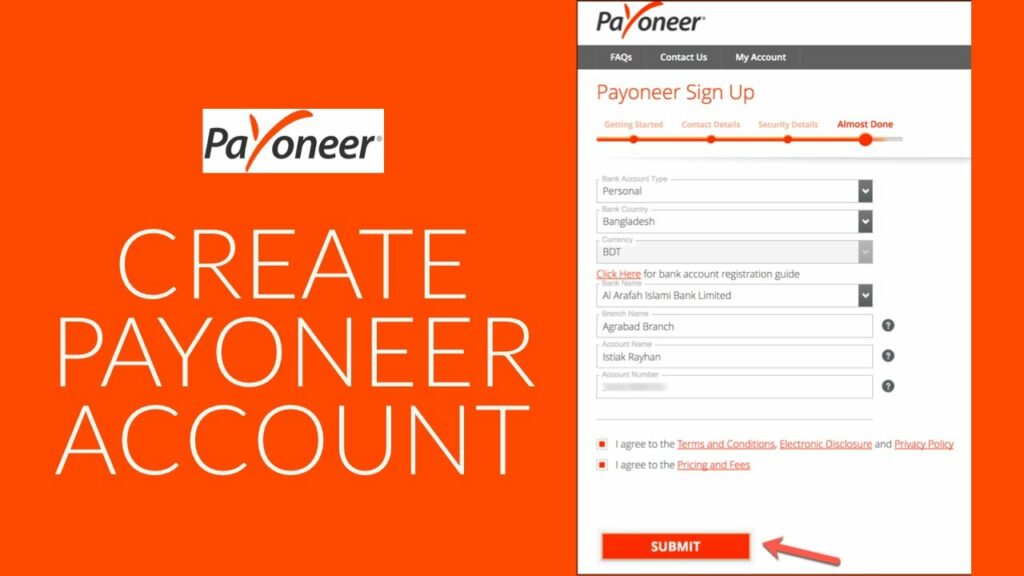 What is Payoneer? | How to Open a Payoneer Account in Nigeria
Payoneer is a renowned global payment platform that empowers individuals and businesses to send and receive funds across borders with ease. Acting as a bridge between countries and currencies, Payoneer facilitates seamless financial transactions, simplifying the complexities associated with international payments.
For freelancers and businesses in Nigeria, Payoneer offers several advantages. These include:
Access to a global network of clients and marketplaces.
Elimination of the need for traditional banking channels.
Efficient and cost-effective cross-border payments.
Competitive currency exchange rates.
Enhanced financial security and privacy.
READ ALSO: How to Start a Foodstuff Business in Nigeria
Eligibility Criteria for Opening a Payoneer Account
To open a Payoneer account in Nigeria, you need to fulfill certain eligibility criteria. These criteria typically focus on age and legal requirements. You must be 18 years or older and comply with the laws and regulations of Nigeria.
In addition, you will need to provide specific documents for verification purposes. These may include:
Valid proof of identity, such as a passport or national identification card.
Proof of address, which can be established using utility bills or official correspondence.
Benefits of Payoneer
Before diving into how to open a Payoneer account process, let's take a look at some of the key benefits of using Payoneer:
Global Reach: Payoneer provides you with access to a vast network of clients and marketplaces worldwide. Whether you're working with international clients or selling your products on global platforms, Payoneer allows you to receive payments in multiple currencies.
Convenience: With Payoneer, you can receive funds directly to your account and easily withdraw them to your local bank account. This eliminates the need for complicated wire transfers or international checks.
Low Fees: Payoneer offers competitive fees compared to traditional methods of international money transfer. You can save on currency conversion fees and enjoy lower withdrawal fees.
Currency Conversion: Payoneer supports multiple currencies, allowing you to receive payments in various currencies such as US Dollars, Euros, British Pounds, and more. This makes it easier for you to manage your finances and avoid costly currency conversions.
Additional Services: Payoneer provides additional services like Payoneer Prepaid Mastercard, which allows you to access your funds easily and make purchases online or offline. You also have the option to receive payments via local bank transfer in some countries.
Now that we've covered the benefits of using Payoneer, let's move on to the step-by-step process of opening an account.
Step-by-Step Guide on How to Open a Payoneer Account in Nigeria
Opening a Payoneer account is a simple and straightforward process. Let's break it down into easy-to-follow steps to follow on how to open a Payoneer account:
Step 1: Visit the Payoneer Website
To begin the account opening process, visit the official Payoneer website. You can easily find it by searching for "Payoneer Nigeria" on your preferred search engine.
Step 2: Sign Up for an Account
Once you're on the Payoneer website, click on the "Sign Up" button to create your account. You will be asked to provide some personal information such as your full name, email address, date of birth, and a valid government-issued ID.
Step 3: Provide Your Contact Information
After completing the initial sign-up process, you will be prompted to provide your contact information, including your address and phone number. Make sure to provide accurate details as this will be used for verification purposes.
Step 4: Confirm Your Email Address
Check your email for a verification link from Payoneer. Click on the link to confirm your email address and proceed with the account verification process.
Step 5: Complete the Verification Process
To ensure the security of your account and comply with regulatory requirements, Payoneer requires you to complete a verification process. This involves providing additional information and documents to prove your identity.
READ ALSO: How to Register a Business Name in Nigeria
Step 6: Submit Required Documents
Once you've reached the verification stage, you will be asked to submit certain documents, such as a scanned copy of your government-issued ID (e.g., passport, driver's license) and a proof of address document (e.g., utility bill, bank statement). Make sure to have these documents ready beforehand to expedite the process.
Step 7: Wait for Approval
After submitting the required documents, you will need to wait for Payoneer to review and approve your account. This process typically takes a few business days, but it may vary depending on the volume of applications.
Step 8: Activate Your Payoneer Account
Once your account is approved, you will receive an email notification with instructions on how to activate your Payoneer account. Follow the provided steps to activate your account and set up your password.
Step 9: Connecting a Bank Account to Your Payoneer Account
Linking your bank account to your Payoneer account allows you to seamlessly transfer funds between the two. Provide the required bank details, such as the account number and routing number, to complete this step.
Step 10: Receive Payments and Withdraw Funds
Congratulations! You now have a verified and activated Payoneer account. You can start receiving payments from international clients or platforms straight into your Payoneer account. Once you have funds available, you can withdraw them to your local bank account, or use the Payoneer Mastercard to access your funds.
Understanding Payoneer Fees and Charges
While Payoneer offers numerous benefits, it's essential to have an understanding of the fees and charges associated with the platform.
Transaction Fees and Exchange Rates
Payoneer charges a nominal fee per transaction, which varies depending on the type and currency involved. Ensure you familiarize yourself with these fees to make informed decisions regarding your financial transactions.
Payoneer also offers competitive exchange rates, which can save you money when converting currencies.
Withdrawal Fees and Minimum Balance Requirements
When withdrawing funds from your Payoneer account to your bank account, certain fees may apply. These fees can vary depending on factors such as the amount being withdrawn and the location of your bank.
It's important to note that Payoneer may have minimum balance requirements to maintain an active account. Familiarize yourself with these requirements to ensure uninterrupted usage.
Payoneer Card and its Benefits
Upon opening a Payoneer account, you have the option to request and activate a Payoneer Mastercard. This card offers a host of benefits, making it a valuable asset for Nigerian users.
Requesting and Activating a Payoneer Mastercard
To obtain a Payoneer Mastercard, log in to your Payoneer account and follow the instructions to request the card. Once it arrives, activate it by following the provided guidelines.
Utilizing the Payoneer Card for Online and Offline Transactions
The Payoneer card empowers you to make online and offline transactions with ease. Whether you're shopping online or visiting local stores, you can conveniently use your Payoneer card for purchases.
Attractive Discounts and Cashback Offers for Nigerian Users
Payoneer often collaborates with various merchants and service providers to offer exclusive discounts and cashback offers to its users. As a Nigerian Payoneer account holder, you can take advantage of these attractive deals and save on your everyday expenses.
READ ALSO: Loan Apps in Nigeria – Digital Bank, Instant Loan App
Navigating Payoneer's Payment Solutions
Payoneer provides versatile payment solutions, catering to the diverse needs of its users. Let's explore three key aspects of Payoneer's payment solutions:
Receiving Payments from International Clients
One of the primary advantages of using Payoneer is the ability to receive payments from international clients seamlessly. Whether you're a freelancer, an e-commerce entrepreneur, or a business owner, Payoneer facilitates quick and secure cross-border transactions, eliminating the hassles of traditional payment methods.
Integrating Payoneer with Popular Freelance Platforms
Payoneer integrates effortlessly with popular freelance platforms, making it easier for freelancers to receive payments from clients worldwide. You can connect your Payoneer account to platforms such as Upwork, Fiverr, and Freelancer, ensuring a hassle-free payment process.
Sending and Requesting Money Within the Payoneer Network
Payoneer also allows you to send and request money within its vast network of users. Whether you're settling payments with suppliers or freelancers, or simply requesting funds from friends or family, Payoneer provides a secure and efficient medium for these transactions.
Payoneer's Security Measures
Payoneer prioritizes the security of your account and transactions. Several measures are in place to ensure a safe and protected experience.
Ensuring the Safety of Your Account and Transactions
Payoneer employs robust security protocols to safeguard your account and personal information. These measures include encryption technology, firewalls, and continual monitoring of transactions.
Two-factor Authentication and Other Security Features
To further enhance security, Payoneer offers two-factor authentication. This additional layer of protection ensures that only authorized individuals can access your account. It is highly recommended to enable this feature to safeguard your financial information.
Overcoming Common Challenges While Opening a Payoneer Account in Nigeria
Though opening a Payoneer account in Nigeria is a relatively smooth process, some common challenges may arise. Being aware of these challenges and their potential solutions can save time and frustration.
Addressing Account Verification Issues
Occasionally, account verification may face delays or encounter issues. In such instances, it is advisable to directly contact Payoneer customer support for assistance and guidance on how to resolve the verification concerns promptly.
Dealing with Limited Customer Support Options
Payoneer provides customer support services to assist its users. However, it's important to note that the availability and accessibility of customer support may vary. In case of any issues, explore the available support options and follow up diligently.
Tips to Maximize Your Payoneer Experience
To make the most of your Payoneer account, consider implementing the following tips:
Leveraging Affiliate Programs and Referrals for Bonuses
Payoneer offers affiliate programs and referrals that can earn you bonuses. By inviting friends or business associates to join Payoneer, you can receive financial incentives or other rewards, further enhancing your overall experience.
Effectively Managing Funds and Optimizing Exchange Rates
Payoneer provides tools and resources to help you effectively manage your funds. Utilize these features to monitor your transactions, analyze exchange rates, and optimize your financial strategy.
Showcasing the Versatility and Opportunities Payoneer Offers
Market your Payoneer account as an asset that opens doors to global opportunities. Highlight the platform's versatility and how it enables seamless transactions, making it an essential tool for freelancers, entrepreneurs, and businesses operating in Nigeria.
READ ALSO: Remita – How to Pay Bills Using Remita
FAQs (Frequently Asked Questions)
Here are answers to some common questions related to opening a Payoneer account in Nigeria:
How long does it take to open a Payoneer account in Nigeria?
The account opening process typically takes a few days, depending on the verification of your documents and other factors.
Can I use Payoneer for international money transfers?
Absolutely! Payoneer specializes in facilitating international money transfers, making it a reliable platform for your cross-border transactions.
What are the alternatives to Payoneer in Nigeria?
While Payoneer is a leading payment platform, alternatives in Nigeria include PayPal, Skrill, and local banking options.
How can I withdraw funds from my Payoneer account in Nigeria?
You can conveniently withdraw funds from your Payoneer account to your linked bank account in Nigeria. Payoneer provides options for bank transfers or transfers to local e-wallets.
Is Payoneer regulated and licensed?
Yes, Payoneer is a licensed and regulated financial institution. It complies with the regulations and guidelines of the countries it operates in, ensuring the highest standards of security and legitimacy.
Are there any limitations on transaction amounts with Payoneer?
Payoneer imposes certain transaction limits based on factors such as account verification status and security measures. Ensure you familiarize yourself with these limits to avoid any inconveniences during your transactions.
Conclusion
Opening a Payoneer account in Nigeria opens up a world of opportunities for entrepreneurs, freelancers, and online sellers. With its global reach, convenience, and competitive fees, Payoneer provides a reliable solution for receiving and managing international payments. By following the step-by-step process outlined in this guide, on how to open a Payoneer account in Nigeria, you can start transacting with clients around the world.
Remember, Payoneer offers additional services like the Payoneer Mastercard and local bank transfers in some countries, which can further enhance your payment experience. Take advantage of the benefits Payoneer offers and expand your business globally. So why wait? Open your Payoneer account today and unlock a world of possibilities!