The next titan is brought to you by Heritage Bank. The next titan is a reality TV Show, and another cycle of the Nigerian Entrepreneurial Reality TV Show. In this Reality TV show, great young entrepreneurs meet.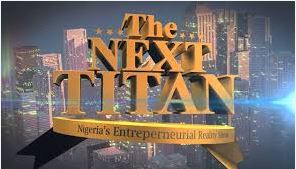 Do you have what it takes to compete with other tenacious entrepreneurs on a 10 weeks reality TV show?
Are you bold enough to face the judges in the boardroom?
Are you a young, ambitious, and aspiring entrepreneur?
Do you have a great/innovative business idea that can earn you N5 Million Naira and a brand new car?
But first, you've got to face Auditions! Register for free now!
The Next titan Season 3 Auditions will hold in Abuja, Port Harcourt, and Lagos
the Auditions will hold as follow:
Abuja Auditions details
Date:  Wednesday 7th September 2016.
Venue:  @ HARMONIA HOTELS
PLOT 896, GIMBIYA STREET/ 3 ONITSHA CRESCENT
AREA 11, GARKI 2, ABUJA
Time:  9am
Port Harcourt Auditions details
Date: Friday 9th September 2016.
Venue:  @ RANDOLPH HOTELS & RESORTS
OLD ABA ROAD, RUMUOGBA, ARTILLERY,
PORT HARCOURT.
Time:  9am
Lagos Auditions details
Date: Wednesday 21st September 2016.
Venue: @ WATER PARKS HOTELS
BEHIND DOMINO PIZZA, TOYIN STREET,
IKEJA, LAGOS
Time:  9am
Each week, the contestants get to work in two teams. Each team will be under the guidance of a project manager gotten by balloting, to compete in business-driven tasks around Lagos, Nigeria. Aside working in teams, each of the contestants is also expected to display his or her creativity on their personal business ideas in the Academy
For eligibility rules and requirements in the reality TV Show, click Here.
References:
www.thenexttitan.com