With the current financial climate, life has become unpredictable. Financial emergencies have a sneaky way of popping up when we least expect them. Whether it's a surprise car repair or a sudden medical bill, quick and convenient loans can be a real lifesaver. That's where the QuickCheck loan app comes to the rescue! It's all about providing you with the financial support you need!
Fintech has truly transformed the financial landscape, making things way easier for us. Say goodbye to those piles of paperwork, long bank lines, and tiresome processes. Let's dive into the nitty-gritty of the QuickCheck Loan App! We'll explore what sets it apart from other loan apps, and also provide some guide, so you can make better financial decisions.
Borrowing money is no small thing, and we want you to approach it with the right knowledge. Remember, with great power comes great responsibility, and that applies to financial tools like QuickCheck too. So, let's get started!
Read Also: PalmPay Login – Digital Banking with PalmPay
What is the QuickCheck Loan App?
So, what's the QuickCheck Loan App all about? It's here to save you from endless paperwork and waiting around for loan approvals! It's a fintech marvel that gives you quick and hassle-free access to funds. The best part? It's all about simplicity and convenience, making sure you can get those loans without any fuss.
You can get loans of up to ₦200,000 with QuickCheck. As a new user, you start with a loan of ₦10,000 for 30 days, and as you pay it back on time, you unlock higher borrowing amounts. Imagine having that financial support right at your fingertips, whenever and wherever you need it – that's the magic of QuickCheck!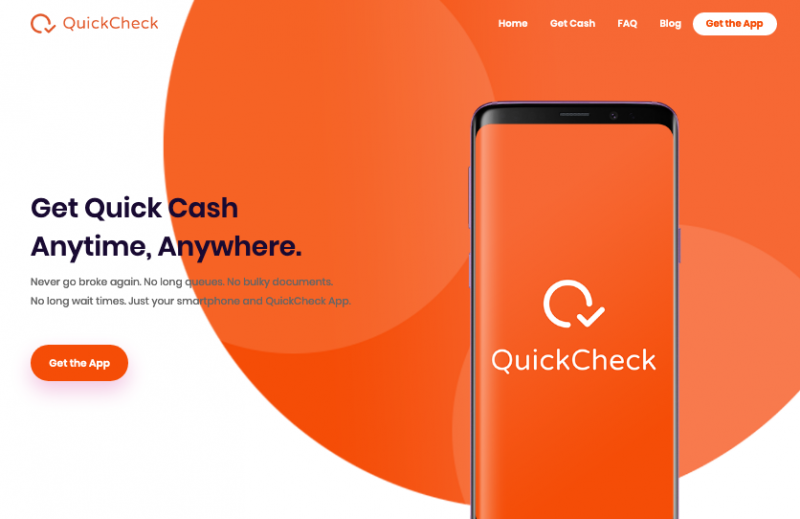 The Benefits of Using the QuickCheck Loan Application
Now, let's talk about the awesome benefits of using the QuickCheck loan app. It's all about saving you from the usual loan application headaches with its fast, user-friendly, and fully digital platform. Check out the perks that make QuickCheck your go-to solution for quick funds:
Speedy Approval and Funds Disbursement: True to its name, QuickCheck gives you swift approval and disbursement of funds. Within minutes of applying, you'll get an instant decision, saving you from nail-biting anxiety. They know time is crucial, especially during financial emergencies, and they make sure you get the funds you need quickly!
A Seamless Digital Experience: No more trekking long distances to a physical bank or dealing with mountains of paperwork. QuickCheck lets you complete the entire loan application process right from your phone or computer. It's super easy and convenient; – no need to leave the comfort of your home.
No Collateral, No Worries: Worried about putting up collateral for a loan? Fear not! QuickCheck offers unsecured loans, so you won't have to risk any of your valuable possessions or scramble to find a guarantor. Your financial needs are met without any additional burdens.
Crystal-Clear Transparency: QuickCheck believes in openness. They hate mystery charges and hidden fees as much as you do! Right from the start, they communicate their loan terms transparently, so you know exactly what you're getting into. No unwelcome surprises down the line.
Track Your Loan Progress: Once you're approved, keeping tabs on your loan progress is a breeze with QuickCheck's app or website. Monitor repayments, view upcoming due dates, and keep an eye on your loan term without any hassle. Managing your finances has never been easier!
Read Also: Loan Apps in Nigeria – Digital Bank, Instant Loan App
Understanding the Risks | Navigating QuickCheck with Caution
Of course, it's also essential to be aware of the risks. While QuickCheck is a lifesaver for quick funds and convenience, every financial decision comes with certain risks. Let's navigate QuickCheck with caution and make informed choices:
Higher Interest Rates for Short-Term Loans: QuickCheck's lightning-fast approval might mean higher interest rates for short-term loans. Keep this in mind when choosing a borrowing option.
Plan Your Repayments: Before getting a loan, create a repayment plan. Know your repayment dates and make sure you have enough funds in your account when the time comes. Late payments may lead to additional charges and affect your credit score.
Track Your Borrowing History: Keep an eye on your borrowing history with QuickCheck. Regular borrowing might indicate underlying financial issues that need attention. Remember, borrowing should be a temporary solution, not a recurring habit.
Educate Yourself: Stay informed about the loan's terms and conditions. Familiarize yourself with the interest rates, fees, and repayment schedule. Being aware of the fine print helps you avoid any unexpected surprises.
Eligibility Criteria and Requirements | Unlocking the Path to Quick Funds!
Before you dive into the QuickCheck loan app, let's go over the eligibility criteria and requirements. Understanding these factors ensures a smooth and successful loan application process. Here's what you need:
Personal Information: Provide your full name, date of birth, address, and contact information accurately for smooth communication and verification.
Residency Status: QuickCheck's services may be limited to specific regions or countries. Verify your residency status to ensure you're eligible.
Income Proof: QuickCheck may request income-related documents like salary slips, bank statements, or tax returns to verify your ability to repay the loan.
Bank Account Details: Supply your bank account information for the loan disbursement process. Make sure it's accurate and current to avoid any delays.
Identification Document: A valid ID document is essential to confirm your identity and eligibility. Ensure the document you provide is clear, legible, and not expired.
By meeting these eligibility criteria and providing the necessary documents and information, you increase your chances of securing a loan through the QuickCheck app.
In Conclusion
To sum it all up, the QuickCheck loan app is your handy solution for quick funds, but it also requires responsibility. Borrow wisely, only for genuine emergencies or essential expenses. Keep an eye on the risks and be familiar with the terms and conditions. With the right approach, QuickCheck can be a lifeline, helping you bridge financial gaps and achieve stability on your path to financial success.
Before using the app, make sure you understand its legal compliance, privacy measures, and security practices to keep your personal and financial information safe.
So, if you're thinking about using the QuickCheck loan app or any other fintech lending platform, evaluate your financial situation, consider alternatives, and borrow responsibly. Armed with the right knowledge and a clear repayment plan, you can make the most of this fintech app and confidently navigate your financial journey.