How to Pay for DStv Online in Nigeria | An Easy Guide.
In this comprehensive guide, we will explore the various methods and platforms available for paying for DStv online in Nigeria. DStv, operated by Multichoice, offers a wide range of satellite television services in Nigeria, including numerous TV channels and on-demand content. By embracing online payment methods, DStv subscribers can enjoy a hassle-free and convenient experience.
Popular Online Payment Platforms in Nigeria
A. Exploring available online payment options
When it comes to paying for DStv online in Nigeria, there are several popular platforms that you can choose from. These platforms provide secure and efficient methods for completing transactions. Some of the options include:
Bank transfers: This method allows you to transfer funds directly from your bank account to your DStv account. It is a convenient option for individuals who prefer to make payments through their trusted banking institutions.
Debit/credit cards: Using your debit or credit card is another popular method for paying for DStv online. This method offers a seamless transaction process, and you can securely enter your card details on the payment platform.
Mobile banking apps: Mobile banking apps provided by Nigerian banks have become increasingly popular for carrying out online transactions. These apps offer a user-friendly interface to make quick and secure payments for DStv services.
Digital wallets: Digital wallets, such as Paystack and Flutterwave, have gained popularity in Nigeria due to their convenience and security. By linking your bank account or card to these wallets, you can easily make payments for DStv services.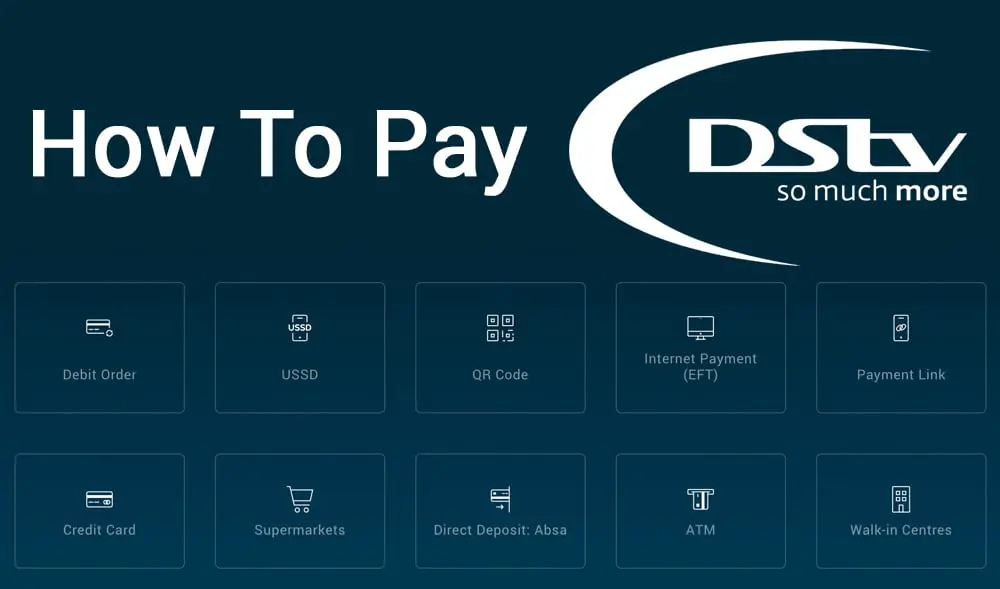 Registering and Linking DStv Account | How to Pay for DStv Online in Nigeria
A. Creating an online account
To pay for DStv online, you first need to create an online account. Visit the DStv website and navigate to the registration page. Fill in the required details, including your name, email address, and password. Make sure to choose a strong password to enhance the security of your account.
B. Associating your DStv subscription to the online account
Once you have created an online account, you will need to link your DStv subscription to it. Log in to your account and locate the "Link DStv Subscription" option. Enter the necessary details, such as your smart card number and registered phone number, to link your subscription to your online account.
This step ensures that you have access to all the relevant information regarding your DStv subscription.
Read Also: Freelance Websites for Nigerians
Understanding DStv Online Payment Options
A. Exploring DStv's official website for online payments
DStv's official website provides a secure platform for making online payments. Log in to your online account and navigate to the "Payments" section. Here, you will find a range of payment options, including the ones discussed earlier. Choose your preferred method, enter the necessary details, and proceed with the transaction.
B. Utilizing the DStv mobile app for payments
Alternatively, you can make payments for your DStv subscription using the DStv mobile app. Download the app from your device's app store and log in using your online account credentials. Navigate to the payment section, where you will find a variety of payment options. Select your preferred method, provide the required information, and complete the transaction.
C. Other authorized online channels for DStv payments
Apart from the official DStv website and mobile app, there are other authorized online channels where you can make payments for your DStv subscription. These channels may include third-party payment platforms, such as Quickteller and Paga. Ensure that these platforms are trustworthy and secure before proceeding with the transaction.
Step-by-Step Guide: How to Pay for DStv Online
Follow these steps to pay for your DStv subscription online:
a. Accessing the online payment platform
Visit the DStv website or open the DStv mobile app.
Log in to your online account using your credentials.
b. Verifying your DStv subscription details
Ensure that your DStv subscription is active and valid.
Check your current subscription plan and package.
c. Selecting a preferred payment method
Choose your preferred payment method from the available options.
Select bank transfers, debit/credit cards, mobile banking apps, or digital wallets, depending on your convenience.
d. Entering payment details and completing the transaction
Enter the required payment details, such as your card information or bank account details.
Double-check the information to ensure accuracy.
Follow the prompts to complete the transaction.
e. Confirming successful payment
Upon successful payment, you will receive a confirmation notification.
Take note of the transaction reference number or receipt for future reference.
Read Also: Highest Paying Tech Companies in Nigeria
Ensuring Online Payment Security
A. Best practices for protecting personal and financial data
When paying for DStv online, it is crucial to prioritize the security of your personal and financial details. Follow these best practices:
Use strong and unique passwords for your online account.
Keep your account credentials confidential and avoid sharing them with others.
Regularly update your payment platform and device software to ensure the latest security features.
B. Recognizing and avoiding online payment scams
Stay vigilant to prevent falling victim to online payment scams. Here are some tips:
Only use authorized payment platforms and channels.
Double-check website URLs to ensure they are secure and legitimate.
Avoid clicking on suspicious links or responding to unsolicited payment requests.
C. Verifying secure payment gateways
Before entering your payment details, ensure that the payment platform is secure by:
Looking for the padlock symbol in the browser address bar.
Check for "https://" at the beginning of the website URL, indicating a secure connection.
Frequently Asked Questions (FAQs)
A. Can I pay for DStv online without an active subscription?
No, you need an active DStv subscription to make online payments. Ensure that your subscription is up to date before proceeding with the payment.
B. Are there additional charges for online payments?
DStv does not charge additional fees for online payments. However, some payment platforms may have transaction fees or charges. Check with your chosen payment method for any applicable charges.
C. Can I schedule automatic monthly payments online?
Yes, certain online payment methods, such as bank transfers and digital wallets, allow you to set up automatic monthly payments for your DStv subscription. Refer to the payment platform's features and functionalities to explore this option.
D. What should I do if I receive a payment confirmation but my DStv still needs to be activated?
If your DStv subscription is not activated despite receiving payment confirmation, contact DStv's customer support immediately. Provide them with the transaction details, and they will assist you in resolving the issue.
E. Can I use someone else's account to pay for my DStv subscription?
No, it is recommended to make payments for your DStv subscription using your account. This ensures accountability and avoids any potential complications regarding ownership and access to the subscription.
Conclusion
Paying for DStv online in Nigeria offers incredible convenience and a hassle-free experience. By exploring the various online payment options and understanding the payment process, you can easily manage your DStv subscription and enjoy uninterrupted access to quality content.
Remember to prioritize online payment security by following best practices and being vigilant against scams. Embrace the ease of online payments and enhance your DStv experience!