10 Best Christmas Markets in London in 2022
The festive season is here, and there are many fantastic Christmas markets in London to pick from in 2022, offering everything from Christmas fairs to handcrafted goods. As to take full advantage of the variety of street cuisine, magnificent lights, and entertainment over the duration of this festive period.
The best part is that we added London's Christmas Markets, which are generally open all week long and even into the New Year.
Borough Market during Christmas
As one of the finest and most beloved gourmet destinations in London with a variety of bakeries and food booths, Borough Market is a must-visit throughout the holiday season.
When it comes to this holiday period, Borough Market would be open seven days a week starting in December 2022 and remaining open through January 9th, 2023.
Covent Garden Christmas Market
Covent Garden has a market all year long, but during the festive season, it surrounds the market with iconic decorations, a legendary Christmas tree, festive stalls, and, of course, everything designed to offer you the most amazing experience.
From November 8 to January 3, 2023, the renowned Covent Garden Christmas Decorations will be illuminated every day from 11 a.m. until midnight.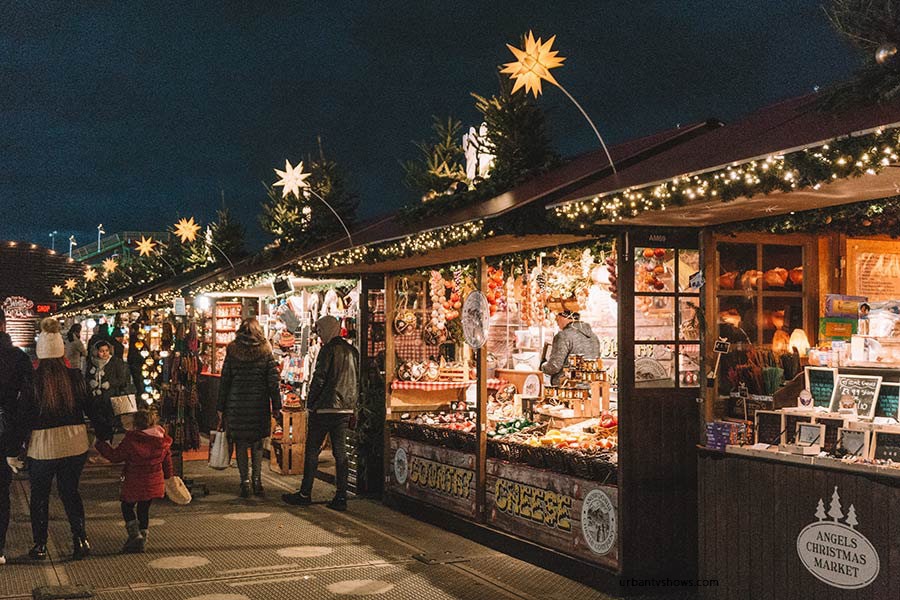 Christmas by the River at London Bridge
With views of Tower Bridge, the Tower of London, and the iconic city skyline, Christmas By The River is situated on the banks of the River Thames.
There are wooden cabins, market vendors selling a variety of handcrafted goods, and a holiday fair. With holiday delicacies to tease and please, it runs from November 15th until January 2nd.
Greenwich Christmas Market
For the sheer beauty of everything at Christmas, visiting Greenwich Market is a must during the holiday season!
This year's Christmas market will be ready beginning on November 16th, and there will be a wide variety of stores providing all the items you could possibly need for the season.
Kingston Christmas Market
Feature more than 40 classic Christmas huts selling local cuisine, presents, and decorations. Choose from a variety of delightful foods and presents to put you in the holiday spirit as you stroll around under sparkling lights.
Starting on November 10th and lasting until December 24th, 2022.
King's Cross Christmas Markets
This London Christmas Market is not solely centered on food. In contrast to several of the other markets on this list. With Christmas markets to be explored, they are filled with delicious food, alcoholic beverages, unique handmade presents, and fashionable clothing.
Leicester Square Christmas Market
This is the vibrant hub of London's theater and arts industry. Here, the market stalls sell festive goods, scrumptious food, and mouthwatering beverages that will be in abundance over the holiday season.
The Leicester Square Christmas Market is open from 9th November 2022 to 7th January 2023. And it's best enjoyed at dusk.
Southbank Centre Winter Market
One of the best free attractions in the city. And it is even more enjoyable during the festive season when the area is decorated with lights.
Likewise, enjoy rich beverages, delicious street cuisine, and seasonal treats.
Trafalgar Square Christmas Market
The Trafalgar Square Christmas tree is one of London's most recognized landmarks. And a walk among market booths and sparkling lights can be found in the city's most famous square.
There are over 19 stalls to explore. So you may pick from lovely hand-crafted items like candlesticks, Christmas decorations, jewelry, and much more. This begins December 1st.
Winter Wonderland Christmas Market
The magnificent Winter Wonderland, one of London's largest Christmas markets, is back in Hyde Park.
Walk around the lovely, old-fashioned market, which is bordered by lovely huts. That are stuffed with one-of-a-kind items, handcrafted Christmas decorations, and delicious food options.
There are so many more beautiful Christmas markets in London. But these 10 Best Christmas Markets in London in 2022 are some of our favorites.